There is a lot of folding chairs in the market. Most of them are used for hotel and resturant. Do you know about the chair history in campsite?
In the United States, an early patent for a folding chair was by John Cham in 1855. In 1947, Fredric Arnold created the first aluminum folding chair with fabric strapping for the seat and back. By 1957, the Fredric Arnold Company of Brooklyn, New York, was manufacturing more than 14,000 chairs per day.
Believe it or not, the first camping chair is chinese folding stool, made of Wood, Chinese people will go to farming and travel at Spring and Autumn.
The upper frame comprised of two elegantly shaped horizontal members carved with confronted chilong framing the woven seat, supported on four legs of rounded section joined at the center by pins secured with baitong hardware, the legs secured to the horizontal feet with similar hardware and flanking the footrest, set with ruyi-head corner mounts and a triple-lozenge pattern at the center, above a shaped, beaded apron and short tab feet.
Upon this design, we have Fishing Stool made of Steel pipe and Aluminum alloy like the following photo: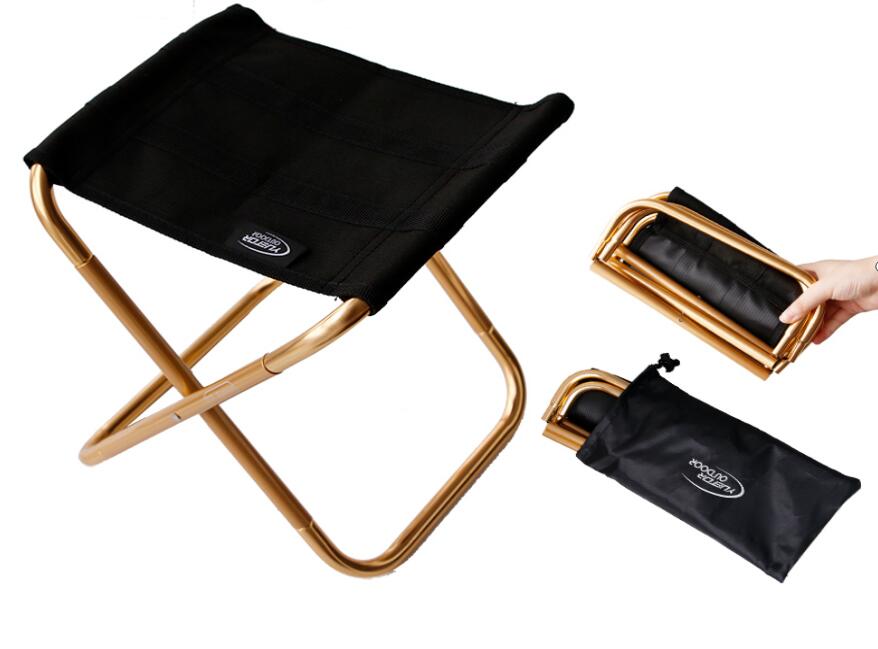 Fast forward to Europe in the Middle Ages and most people didn't get chairs at all. "They just sat on whatever was around because they couldn't afford it," Rybczynski says. "You had to be really rich to afford something like a chair. If they were lucky they sat on a bench - that was about the height of sitting." In the 1830s German-Austrian furniture maker Michael Thonet invented the Vienna chair - you've probably seen those at coffee shops and cafes. Thonet simplified the process of bending wood, Rybczynski said, and turned the craft of chair-making into an industry.
At that time, outdoor chair is still not a light weight design till the basic camp chair come out.
It`s made of nylon fabric and steel pipe to hold guys on beach.The Basic Camp Chair is a lightweight and comfortable chair which features an easy fold system, heavy duty steel frame, reinforced eyelets, water resistant, sturdy leg base for stable ground footing and a drink bottle holder.
With time goes by, we have a better choice, a Directors chair.
Victor Papanek describes this chair as an excellent design in his book Design for the Real World as it is simple and ideally suited to its function. The design goes back to coffer-makers' chairs of the 15th century and eventually to the Roman curule chair.
More and more artister fall in love with the seat and make effort to make the ideal one.
There is three accessories for addon design, side table, inside pocket, cup holder.

The modern folding chair has crossed over into something that feels more personal
and better designed than its original iterations. Designers knew not to view the
original concept as inflexible. Instead, they pushed it forward as larger cultural design
sensibilities shifted and when they saw there was a desire for folding chairs that felt
unique to people`s individual tastes and preferences. Finding one`s path to sobriety
can have a similar [make it your own" quality.